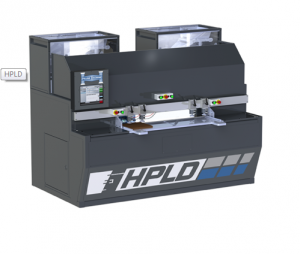 Lockdowel Vice President Tom May will demonstrate how Lockdowel snap-together technology is manufactured at the Vision Machinery Open House Nov. 2 in Sacramento.
Fremont-based Lockdowel to show snap-together assembly for furniture & cabinets and how it is manufactured at Vision Machinery's Open House in Sacramento Nov 2
SACRAMENTO, CA, USA, October 25, 2017 /EINPresswire.com/ — Lockdowel glue-less, screw-less fastening solutions will present and demonstrate "How to Gain 60% More Capacity" at the Vision Machinery Open House, Nov. 2, 2017. The event will be held from 10 a.m. to 4 p.m. at the Vision Machinery headquarters, 1309 N. Market Blvd. #140 in Sacramento and will feature food all day, the latest in CNC machinery on the floor and ready to purchase, one-day-only pricing, door prizes and demonstrations from industry partners.
Lockdowel Vice President of Sales Thomas May will show how cabinet and furniture makers gain 60 percent more capacity by eliminating glue and screws and assembling with Lockdowel snap-together fastening. He will be demonstrating with the new Pillar Lockdowel drilling and insertion machine – just released this year!
"We are thrilled to be featuring the new Lockdowel Pillar CNC machine at the most advanced manufacturing showroom on the West Coast," May says. "Anytime a dealer, CNC manufacturer and solutions provider align to show the industry how to reduce costs and gain capacity with a smarter more user-ready product, it is winning opportunity for all!"
Vision Machinery industry partners are hand-picked by Vision Machinery because they excel in the categories of quality, service and innovation. These industry experts will be there for customers from the beginning, with the equipment selection process, and for years to come to provide training, tech support, parts inventory and of course, service to keep companies on the leading edge and always moving forward.
RSVP here for amazing food and to win one of Vision Machinery's many door prizes! (Only those who RSVP will be entered. Must be present to win.) https://www.evite.com/event/00BDIUYAT6C5SQTRCEPHUI6UGKMKKQ/rsvp?utm_campaign=send_sharable_link&utm_medium=sharable_invite&utm_source=www.visionmachineryinc.com
Since 2009 when Lonnie Campbell started Vision Machinery the company has been providing the most advanced solutions to an ever changing manufacturing environment. "While many companies are hanging on to the ideas and technology of the past, Vision Machinery has had the foresight to recognize the rapid change in manufacturing needs," Campbell says. "Wood product manufacturers may need to start fabricating with stone or glass. Companies may now want to bring aluminum in house. Plastic companies are evolving into composites, and more. We have solutions for all these materials and whatever else the future may bring!"
About Vision Machinery: Quality. Service. Innovation. Vision Machinery's mission is to offer the most innovative, highest quality machines and provide the support and education required to keep your company on the leading edge of your industry. Vision Machinery serves the Northern and Central California as well as Northern Nevada and Southern Oregon. For more information visit www.visionmachineryinc.com or contact: admin@visionmachineryinc.com
Vision Machinery:1309 N. Market Boulevard, #140 Sacramento CA 95834 Phone: 916 550-1681
About Lockdowel: Lockdowel provides fasteners, drawer slides and hinges for fast and easy installation of cabinets, furniture, closets and architectural millwork. Patent pending. Lockdowel 41920 Christy Street Fremont, CA 94538, (650) 477-7112 www.lockdowel.com
https://www.youtube.com/watch?v=tpIVbkANXrg
MaryLynn B. Heath
MaryLynn Heath, PR
(405)641-9733
email us here

Source: EIN Presswire